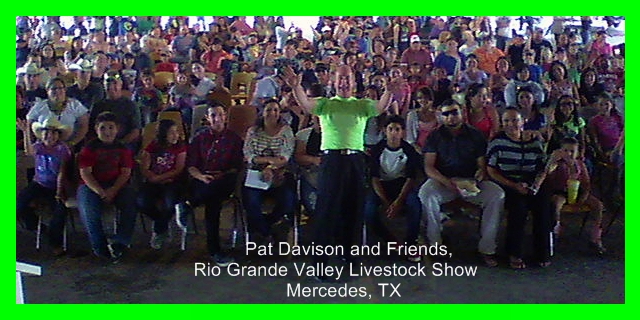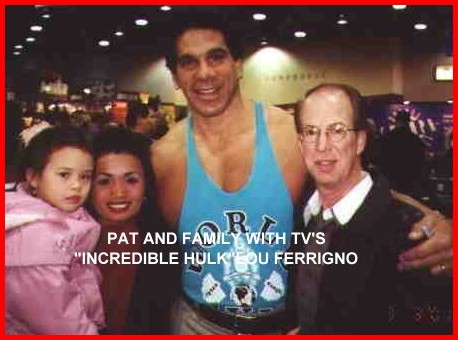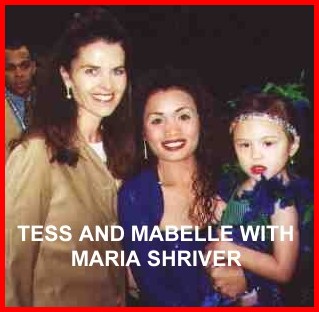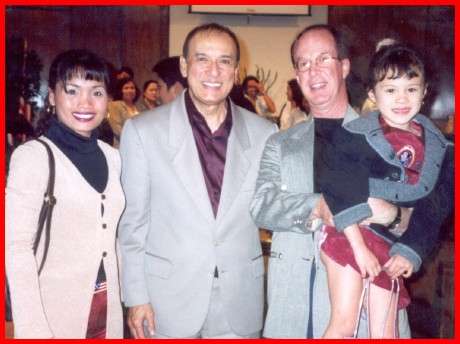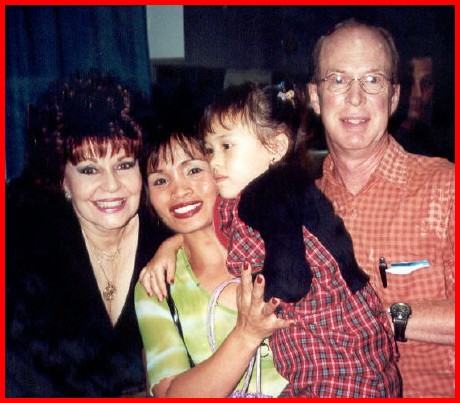 THE DAVISON FAMILY WITH
FILIPINO SCREEN LEGENDS EDDIE MESA AND PILITA CORALES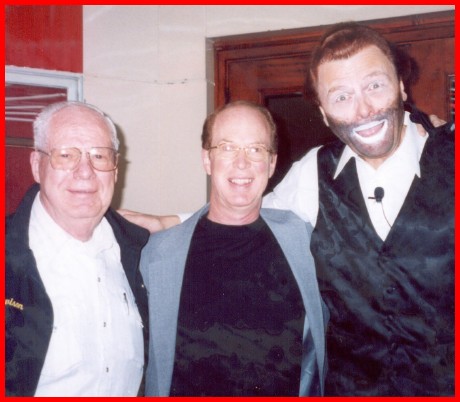 PAT AND HIS DAD WITH BRANSON, MISSOURI'S
RED SKELTON LOOK-ALIKE TOM MULLICA
Here are just a few of the places where you may have caught their act...
Emcee and featured Comedy/Variety performer at The Grand Country Music Hall
Branson, MO (2006)
Featured at "ARNOLD SCHWARZENEGGER'S FITNESS EXPO"
, Columbus, OH (2001)
"SABADO GIGANTE!" on Univision (2001)
Standing ovation on "STEVE HARVEY'S BIG TIME!" on the Warner Brothers Network (2004)
Holland America Cruise Lines (1998)
Japan Cruise Lines (2000)
Dolphin Cruise Lines (1992, 1993)
Carnival Cruise Lines (1984)
STATLER BROTHERS TV SHOW on TNN
"The Best of Burlesque" at the Showboat Dinner Theater (co-starring with FRANK GORSHIN)
Opening act for Grand Ole Opry Star LITTLE JIMMY DICKENS
Halftime entertainment for The HARLEM GLOBETROTTERS, World-renowned Basketball Team (National and International Touring Units, 1976, 1977, 1979)
StateLine Hotel/Casino (1990)
Rio Grande Valley Livestock Show, Mercedes, TX (2009, 2013)
Opening act for the legendary "INK SPOTS" Quartet (1989)
Vidbel's Circus (1998, 1999, 2001)
STANDING OVATION as Featured Variety Act at International Brotherhood of Magicians International Convention Stage Show, Lyric Theater, Kansas City, MO (2003)
Circus Vargas (1981, 1986)
Iowa State Fair
Florida State Fair
Western Canadian Fair Circuit Grandstand Shows (3 years as Emcee and Featured Performer)
Erie County Fair, Hamburg, NY (2001)
Holiday Ice Show (1999)
Winter Wonderland Ice Show (1999)
"Bozo's Circus" on WGN-TV (More than a dozen appearances)
"CIRCUS!" on Canadian National TV (Two appearances)
A special performance for PRINCE RAINIER OF MONACO (1977)
Knoebel's Grove Amusement Resort (1999, 2000, 2001, 2002, 2003, 2004, 2005, 2006, 2007, 2008, 2009, 2010, 2011, 2012)
ValleyFair Amusement Park (1976, 1977)
MEDORA MUSICAL, Medora, ND (1991)
Century Villages Condominiums, Miami, FL (1998)
Kutscher's Country Club in The Catskills (1982)
Villa Roma Resort, Catskills, New York (2012)
National Cattle Congress Fair, Waterloo, Iowa (1988, 2012)
Minnesota Lynx Basketball Halftime Show (standing ovation!!!)(2003)
Philippine Fiesta, Secaucus, New Jersey (2008)
NBA's Rio Grande Valley Vipers Halftime Show (standing ovation!!!) (2009)
Big Apple Circus, Lincoln Center, New York (2010)
BorderFest, Hidalgo, TX (standing ovation!!!)(2010, 2011, 2013)

...Plus thousands of shows of all kinds in 49 States and two dozen Countries Worldwide!